SOURCES® LA
The Best Route to the U.S. Gift Market.

In the United States, gifts and decorative accessories are a $70 billion market. SOURCES was created to help businesses like your's profit from it.

SOURCES LA presented alongside the California Gift Show® is a major global marketplace—a tremendous opportunity for non-U.S. manufacturers to connect with thousands of wholesalers, importers, volume buyers, manufacturers and product designers from major North American companies.

Presented alongside the largest and most comprehensive gift show in the Western United States, SOURCES affords unparalleled exposure to leading importers, distributors, manufacturers, designers and volume retailers looking for offshore resources.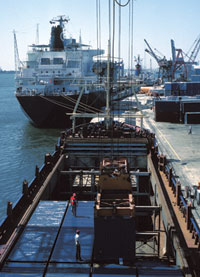 The California Gift show draws more than 30,000 attendees from 20,000 businesses, including specialty and department stores, designers, importers and distributors of home products, mail order catalogs, museums and galleries. More than 1,000 have sales volumes in excess of $1 million. In addition, the Show features 1,700 exhibiting companies, hundreds of which are importers or are presently manufacturing offshore.

The California Gift Show attracts a broad range of buyers including mass merchants, catalogues, specialty chains, hotels, theme parks, museum stores and galleries. Whether looking to direct import merchandise or develop product with overseas manufacturers or artisans, these retailers are capable of doing business with you.

Here's just a sample of buyers that will be walking the Show:

Ace Hardware • Aquarium of the Pacific • Bloomingdale's • Caesar's Palace • Cedar Point Parks • Circus Circus Casinos • Cost Plus World Market • Del Mano Gallery • Folk Tree Gallery • Four Seasons Hotels • Los Angeles County Museum of Art • Macy's • Marmaxx/TJ Maxx • Museum of Latin America Art • Nordstrom's • Norton Simon Museum • Pier One n Robinson's May • Smart & Final • Walt Disney World Zoological Society of San Diego

Exhibitor Participation
The debut of Sources LA in January 2006 will feature some 200 companies representing China, Hong Kong, The Philippines, Sri Lanka, West Africa, East Africa, Ghana, Korea, Nepal, Peru, Thailand, Poland, India and more. Renewals for participation in the July edition are already underway, so act quickly to ensure premium positioning.

We're Here To Help!
To make your trip to SOURCES® LA as simple—and rewarding—as possible, George Little Management will guide you every step of the way. We'll help you obtain a visa and put you in touch with government groups and official SOURCES sales agents who can assist you with travel arrangements, contracts and sales.

Colvin English
Show Manager
George Little Management, LLC
888 South Figureoa Street, Suite 600
Los Angeles, CA 90017
Phone: 1-213-430-2316 Fax: 1-213-362-5660
E-Mail: contact@sourcesla.com

In the Far East, GLM representatives at The Asia Pacific Connection are ready to meet with you at your convenience and answer any of your questions concerning the Show. Contact John S. Debono or Laurie Burns at:

The Asia Pacific Connection Ltd.
37/23 Soi 1, Moo Baan Seri Villa
Srinakarin Road
Pravet, Bangkok 10250, Thailand
Phone: 011 662 399 3709
Fax: 011 662 399 3710
E-mail: jdebono@netvigator.com

We also have sales agents to assist you in Bangladesh, Brazil, China, Ghana, India, Indonesia, Macau, Nepal, the Philippines, South Africa and Taiwan. For contact information, visit http://www.sourcesla.com/../content/agents.htm.

So, don't delay. Begin now to plan your trip to SOURCES LA. You can apply online or complete and mail the enclosed application form. It's your most direct route to the U.S. market.